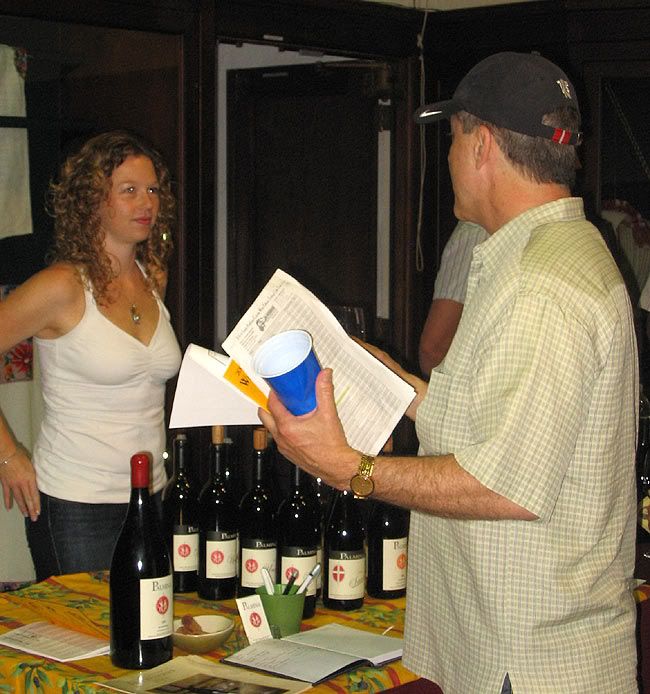 The
2009 Santa Barbara County Wine Futures Tasting
was held under the auspices of
The Winehound
on Saturday, and I was there to take pictures and do some tasting. I focused primarily on the Burgundian grapes that make our area so special.
In the wonderful w0rld of Chardonnay, I was immediately drawn to the
2007 Au Bon Climat Estate Chardonnay
. It offered citrus and honey notes on the nose and on the palate, with some solid oak behind it. I also enjoyed the
Melville 2008 "Donna's Vineyard" Chardonnay
, slightly toasty with a mineral note.
Brewer-Clifton
was showing two wonderful 2008 Chardonnays: the
2008 Sanford & Benedict Vineyard
, lush and viscous with a hint of flowery perfume; and the
2008 Gnesa Vineyard
, showing pear and honey flavors -- very nice. But the hit of the show was the
2008 Foxen Steel Cut Chardonnay from Bien Nacido Vineyard
. This is the first ever stainless steel Chardonnay from Foxen, and it's a beauty, with all the fruity loveliness available to taste.
I did enjoy a few other whites, including the
Kunin 2008 Viognier, Stolpman Vineyard
-- very nice with a good floral nose and a nice full body -- and the
Demetria Cuvee Papou
-- a Grenache Blanc/Marsanne/Roussanne/Viognier blend.
As far as reds went, I enjoyed the
Margerum 2007 Grenache
and the
Sanguis 2006 "As the Crow Flies"
. The latter, poured by the lovely Drea O'Connell, is a Syrah with a bit of Grenache and 3% co-fermented Viognier. Chocolate, red and black fruit flavors, and a bit of oak make a wonderful combination -- this wine will probably be hard to find, as they only made 205 cases of it.
The Pinot Noirs were out in force, especially from the Santa Maria Valley -- one of my favorite Pinot regions.
Alta Maria 2008 Pinot Noir Bien Nacido Vineyard
showed red fruit flavors with a nice complexity.
Native9 Pinot Noir Rancho Ontiveros Vineyard
offered a dark cherry flavor. And
Paul Lato
was pouring his
2008 Pinot Noir Solomon Hills
, with a remarkably earthy taste to it.
From the Sta Rita Hills, there was the
Melville 2008 Clone 828 Pinot Noir
, deep and spicy, and
Foxen's 2007 Sanford & Benedict Vineyard Pinot Noir
, another world-class wine from them.
There were lots of other great wines, but I was limiting my tasting just a bit so I had to let them go. But I can safely say there's a lot to taste and enjoy from Santa Barbara County again this year. Thanks to Bob Wesley from The Winehound, and thanks, too, to
Metropulos
for the delicious food that accompanied the tasting. You can find more photos
here
.